| | |
| --- | --- |
| Posted on 21 August, 2017 at 7:45 | |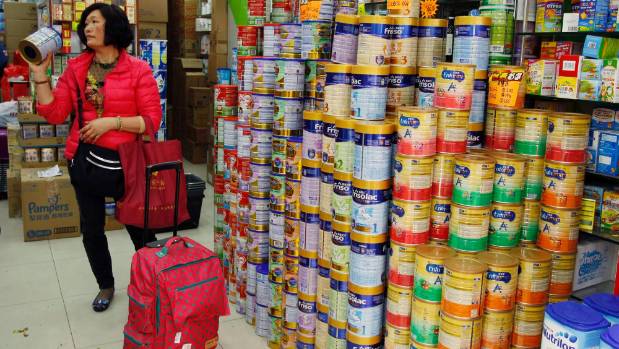 Source: /www.stuff.co.nz/manawatu-standard/business/95396723/Fonterra-partner-Beingmate-plans-to-sell-off-dairy-farms-as-it-forecasts-big-loss
Fonterra partner Beingmate plans to sell off dairy farms as it forecasts big loss
GERARD HUTCHING
Fonterra's Chinese investment partner Beingmate has forecast a hefty loss of $70 million for the first six months of the year and announced a sell-off of dairy farm assets.
The company had earlier forecast a profit. Its shares have fallen 10 per cent and been indefinitely suspended from trading, and charges have been made the company has been involved in insider trading.
In 2015 Fonterra invested $700 million for an 18.8 per cent stake in Beingmate, which it said would give access to the lucrative Chinese market for its infant formula and other products.
Dr Andrew Zhu of Trace, a consumer research company based in Auckland, said he believed the investment was questionable.
"There's a big mismatch between Fonterra and Beingmate. The key thing is the Chinese consumer doesn't have confidence in this brand."
"In May I went to China to do a study on infant formula and no-one mentioned it. For people in the first and second tier cities, it's not a brand they consider. It's aimed at the lower end of the market," Zhu said.
Fonterra acknowledged the difficulties of the Chinese infant formula market. A spokesman said the infant formula industry continued to operate "under challenging conditions" during the transition to infant formula registration, which had taken longer than indicated at first.
Beingmate was operating in a highly fragmented and uncertain infant formula market. Registrations for its five factories were "all on track".
"Our investment in Beingmate is part of a long-term, strategic plan to grow in the China infant formula market. We remain committed to the integrated China strategy and will continue to build on the success of our business in China," the spokesman said.
He said the partnership had created a direct line from Fonterra into the China infant formula market and given it access to an "extensive distribution and sales network".
"As a result our Anmum range is now in more than 170 cities in China, compared to around 60 in 2015."
Zhu said that just because the product was available in a greater range of cities, it was not necessarily value added.
Labour primary industries spokesman Damien O'Connor said senior Fonterra executive should be held responsible.
"The board approved a wasted investment of $700m of New Zealand farmer money. There's no excuse for not doing due diligence," he said.
Beingmate is not alone in experiencing difficulties in China. Last month Chinese authorities suspended the export licence of Australian dairy company Bellamys.
Fonterra manufactures Bellamy's organic baby powder range at its Darnum, Victoria plant under a five-year, multi-million deal, but the suspension does not impact the sale of these products.
Fonterra Australia also uses the Darnum plant to manufacture nutritional base powders for Beingmate, which are now being shipped to China.
Last week Beingmate told the Shenzhen Stock Exchange it would spin off a subsidiary that runs dairy farms in China's Heilongjiang province to improve earnings.
The subsidiary - Beingmate Anda Dairy Company - has lost money in the last year as global raw milk prices remained low, although they have since picked up.
The Caixin news website said Beingmate chairman Wang Zhentai had denied the claims of insider trading, but the Shenzhen Stock Exchange had ordered the company to disclose any stock transactions made by executives over the past three months.
In the last year the vice-chairman, chief financial officer and deputy general manager have resigned from Beingmate.
Categories: None
/