| | |
| --- | --- |
| Posted on 6 September, 2017 at 0:00 | |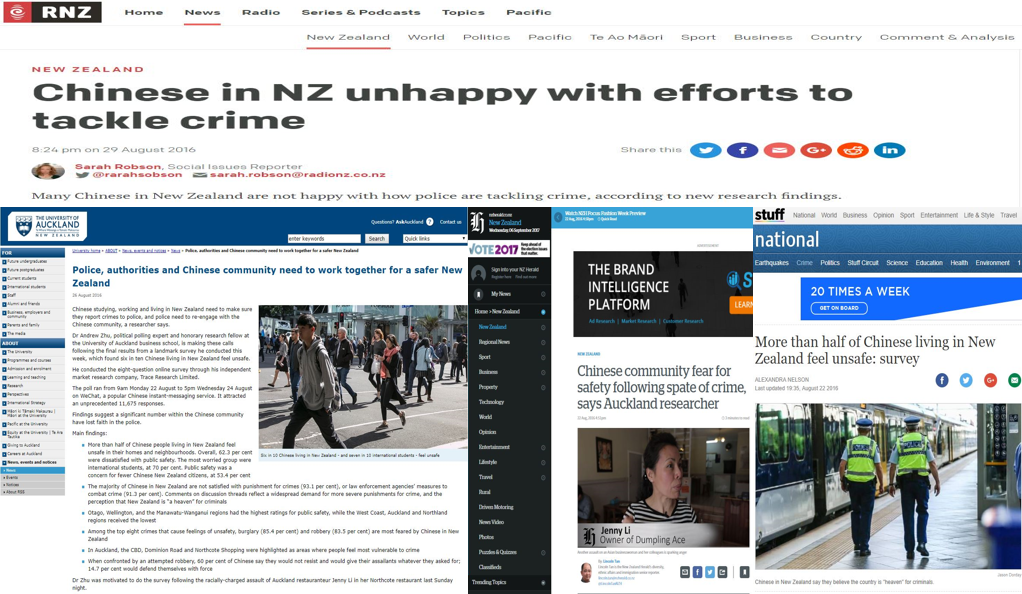 Image Source: Radio NZ,the University of Auckland, New Zealand Herald & Stuff, August 2016
Executive Summary
Objectives
Help Chinese perceptions be better understood by non-Chinese in New Zealand;
Provide statistical evidence to support the Chinese community's concerns about public safety in New Zealand;
Identify areas of concern and provide recommendations to relevant authorities;
Increase peace of mind within the Chinese community.
Methodology
Results are based on an online survey distributed to Chinese New Zealand residents through Wechat, a Chinese instant-messaging service. Wechat has a higher penetration rate than landlines among Chinese in New Zealand;
The poll was conducted from 22nd to 24th August, 2016 by Trace Research Ltd on a non-profit basis;
The survey is based on a very large sample with 11,675 valid responses (all respondents 18+ years old, 46% male and 54% female);
To ensure the representativeness of the results, demographic weightings have been applied to New Zealand citizens and permanent residents using the 2013 NZ Census statistics on Chinese population distribution. The margin of error is 1% at the 95% confidence level;
The sample consisted of 15.9% NZ citizens, 43.2% NZ permanent residents, 26.8% international students, 1.8% visitor Visa holders, 11.4 working Visa holders, and 0.9% other Visa holders;
All respondents are ethnic Chinese. Analysis of respondents' comments indicates a broad range of origins, including Chinese from mainland China, Hong Kong, Taiwan, Singapore, Malaysia as well as 2nd generation ethic Chinese in New Zealand.
Key Findings
62.3% of the Chinese in New Zealand express dissatisfaction with public safety. The group which feels most vulnerable is the international student segment (70%). However Chinese New Zealanders (New Zealand citizens) have relatively less concern (53.4%), as this group of Chinese have been in New Zealand long enough to be better integrated into society, understand local norms, and have sufficient knowledge about how to deal with contingences. It is important to note, this poll has measured feelings about safety, but not the actual safety in NZ;
93.1% of the Chinese in New Zealand are not satisfied with the punishment imposed for crimes. The least satisfied groups are NZ permanent resident segment (94.3%) and international students (93.6%), followed by working Visa holders (93.2%) and NZ citizens (90.4%). Content analysis of respondents' comments exhibit that Chinese demand severe punishments for crime, and 50% of comments made were expecting amendment to criminal law to reinforce punishment;
Though the overall national safety satisfaction among Chinese is not high, certain regions show better safety satisfaction ratings. Otago, Wellington, and Manawatu-Wanganui regions are better perceived by local Chinese in general and international students specifically. The least satisfied region is the West Coast, with the low rating (mean=3) largely driven by visitor Visa holders (1.9) and international students (2.3).
Among the top 8 crimes that caused respondents to feel unsafe, burglary (85.4%) and robbery (83.5%) cause the greatest concern to Chinese in New Zealand;
Within Auckland region, the CBD (especially along Queen Street) (70%) is the most worrisome area for Chinese. Among all respondents, Dominion Road (6%) and Northcote shopping centre (4%) are two specific locations Chinese mentioned safety concerns about;
When confronted by attempted robbery, 60% of Chinese said they would not resist and give criminals whatever they asked for, and only 14.7% claimed they would defend themselves with force. Visitor Visa holders show the highest level of resistance (16.4%) and non-cooperation (28.3%) among all groups. Notably, only 40% of this group had travel insurance;
Both immigration and police could develop solutions for this group of Chinese who are new to NZ and have limited knowledge about NZ;
Run a Safer Community is an initiative triggered by recent incidents involving Chinese international students. In the 21 weeks of since the campaign began, it has gained 25.7% awareness within the Chinese community in NZ;
Recommendations made by survey respondents showed five major themes: 1) suggestions on relevant Law/Legislation reform/ amendments; 2) suggestions for Police; 3) increased attention to Chinese Community by authorities; 4) formation of self-initiated civil organisations; and 5) Demonstrations.
Recommendations
For the Chinese community:
Survey results suggest that many Chinese have lost their faith in Police based on their past personal experience, and this led some respondents to not report a crime;
Recommendation: Convince the Chinese Community to report a crime more fully. Positive interaction can help rebuild trust in the Police. Furthermore, if there is more evidence of reported crime, the Police can allocate resources more effectively;
Check the link for how to report a crime:  www.police.govt.nz/contact-us/how-report-crime
 For Police:
Why have some Chinese have lost their faith in Police? According to comments made in the survey, those who reported the crime in the past (e.g. Burglary) had never heard back from Police, and some are not happy with response time, etc;
Consider re-engaging with the Chinese community. Explain to the community how the Police work, and work to set appropriate expectations from all parties.
For Legislators:
94% PRs and 90% citizens are not satisfied with punishment for crimes. 50% of negative comments were related to legislation. Parliament needs to engage more fully with their Chinese constituents, and to better understand and respond to their concerns.
Special thanks go to the following organisations and individuals for their encouragements and supports in this opinion poll
11,675 Chinese respondents who expressed their view
Lincoln Tan - New Zealand Herald
Nicola Shepheard – The University of Auckland
Nicola Bremner – TVNZ
Phil O'Sullivan - TVNZ
Alexandra Nelson – Stuff Fairfax Media
Chen Liu – Stuff Fairfax Media
Sarah Robson – Radio NZ National
John Campbell – Radio NZ National
Michael Allan – Newstalk ZB
Mike Hosking– Newstalk ZB
Christina Campbell – Newstalk ZB
Bryan Chen – WTV
www.scoop.co.nz
www.livenews.co.nz
Volunteers (Research Professionals)
Sindy Xian – Qualitative Analysis
Jerry Chen – Data Coding
Shirley Du – Translation
Media Release 
www.nzherald.co.nz/nz/news/article.cfm?c_id=1&objectid=11698917
www.stuff.co.nz/national/crime/83433024/More-than-half-of-Chinese-living-in-New-Zealand-feel-unsafe-survey
www.tvnz.co.nz/one-news/new-zealand/chinese-dont-feel-safe-video-fight-outside-auckland-restaurant-illustrates-their-fears
www.radionz.co.nz/news/national/312053/chinese-in-nz-unhappy-with-efforts-to-tackle-crime
news.xinhuanet.com/english/2016-08/26/c_135635748.htm
www.china.org.cn/world/Off_the_Wire/2016-08/26/content_39172101.htm
community.scoop.co.nz/2016/08/authorities-and-chinese-community-need-to-work-together/
news.163.com/16/0825/10/BVAEEL1U00014JB6.html
news.sohu.com/20160823/n465441628.shtml
news.ifeng.com/a/20160825/49837246_0.shtml

www.auckland.ac.nz/en/about/news-events-and-notices/news/news-2016/08/Chinese-feel-unsafe-in-NZ-survey.html
Dr Andrew Zhu
Categories: None
/