Research Outputs (non-confidential) & Media Release
| | |
| --- | --- |
| Posted on 11 April, 2022 at 1:40 | |
| | |
| --- | --- |
| Posted on 3 March, 2020 at 19:40 | |
| | |
| --- | --- |
| Posted on 28 October, 2019 at 3:25 | |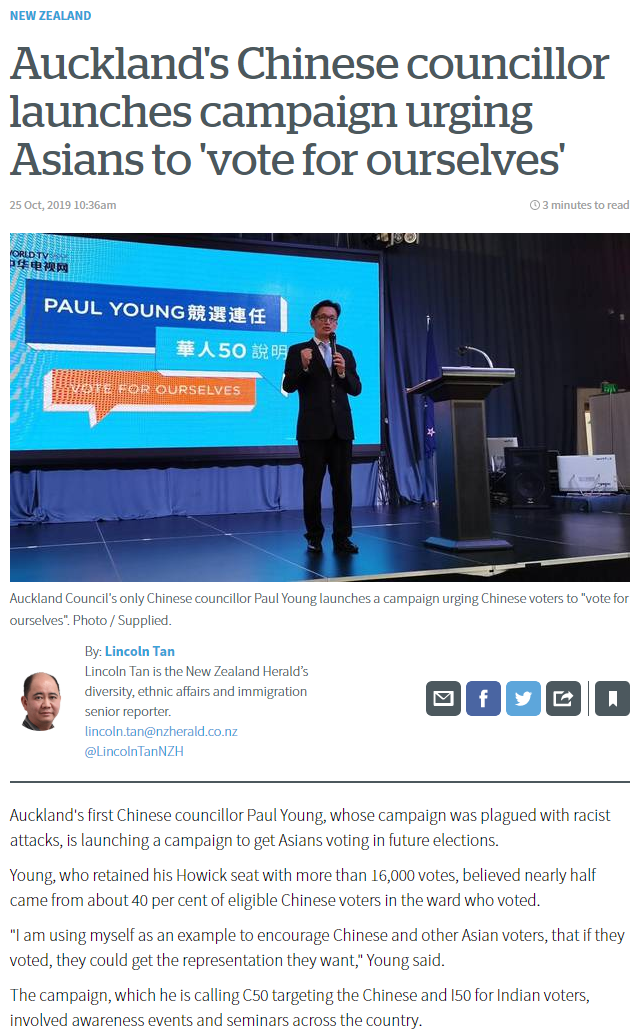 | | |
| --- | --- |
| Posted on 9 December, 2018 at 2:55 | |
| | |
| --- | --- |
| Posted on 21 April, 2018 at 5:30 | |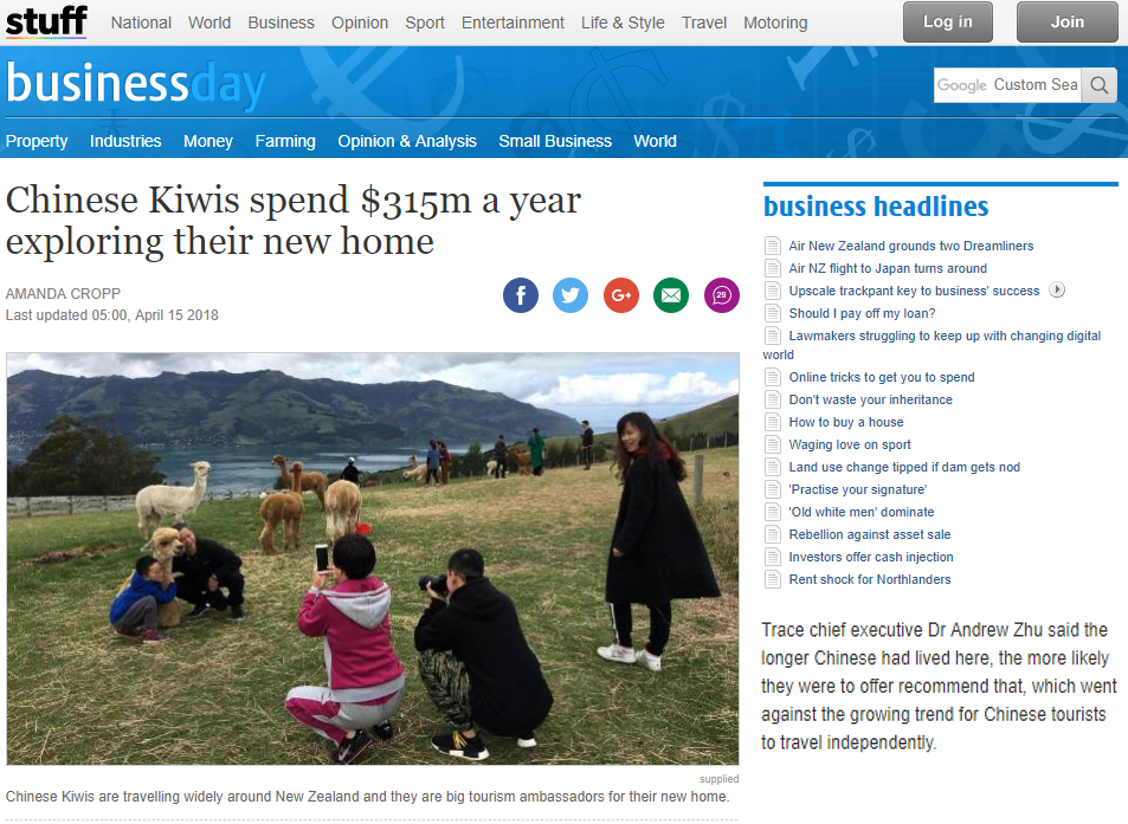 Source: Stuff.co.nz
Chinese Kiwis are spending up large on exploring New Zealand, and they have a big influence on the travel plans of visiting friends and family.
An online survey of 1183 Chinese New Zealanders by Trace Research estimated Chinese residents spent about $315m on domestic holidays last year, making three trips on average, with Rotorua, Taupo and Waikato their top destinations.
Enjoying natural scenery, hot springs and spas, and hiking were their favourite activities.
And because they often did not have friends and family to stay with, the average holiday spend of Chinese Kiwis was about $1500 per person annually, triple that of other New Zealanders.
Read the full article @ www.stuff.co.nz/business/102080648/chinese-kiwis-spend-315m-a-year-exploring-their-new-home
| | |
| --- | --- |
| Posted on 2 October, 2017 at 7:25 | |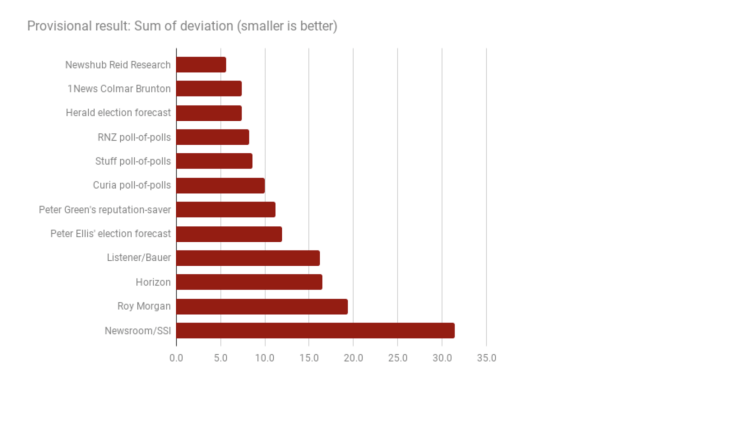 Bugger the pollsters? Not this time
Mark Jennings
Mark Jennings is co-editor of Newsroom. He writes about the media industry, business, and tertiary education.
Newshub's political editor Paddy Gower has been quick to brag about the accuracy of his network's political polling in the wake of the election result. The Newshub-Reid Research poll published two days out from the election got very close to the actual result.
It is likely to prove even more accurate if most commentators' predictions of a slight decrease for National and a slight increase for Labour and Greens prove correct when all the special votes are counted.
Gower's delight over the result is partly revenge, because TV3 copped it after the 2014 election when it had one of the least accurate final polls.
The winner in 2014 was the rival 1 News Colmar Brunton poll. This time, Colmar was off the pace and in sporting terms "had a shocker" with its second-to-last poll before the election.
The Colmar poll had Labour on 43 percent and National on 41.
At the time, Labour leader Jacinda Ardern commented that she was "surprised", a clear indication that it didn't match the party's internal polling.
Former pollster, Dr Andrew Robertson, says the poll was almost definitely a rogue result.
"Looking back at it, I suspect the Colmar Brunton poll was an outlier, it is what happens when you are dealing with statistics – it is the random nature of sampling. It was bad luck for Colmar and 1 News that it happened so close to the election."
However, the strong criticism international polling companies got after failing to pick up trends in the US and British elections is unlikely to be echoed here.
According to Robertson there is no "polling crisis" in New Zealand and "the established polls have done well, once again"
What does worry him is the decline in the number of polls.
"This is a big problem, there are now only two polls (Newshub and 1News) using bespoke methodology. Roy Morgan does one but they don't follow the Research Association's political polling code of practice."
The two big newspaper groups, Fairfax and NZME did not run polls this election, instead doing forecasts based on the other polls.
"I think it is to do with cost and the Herald's polling company Digi Poll closed down. Losing these polls is a problem - the forecasts and the polls of polls don't have much data to inform their models and calculations."
The way our pollsters gather their data is also changing.
This year Reid Research used an online panel to reach its quota of 18 to 35 year olds – 25 percent of the total sample. The remaining 75 percent were polled by the traditional method of calling landlines.
Dr Andrew Zhu who supervises the online sampling for Reid Research says the case for "online polling" is getting stronger.
"Twenty-five percent of people don't even have a landline anymore and my research estimates that this will rise to 33 percent by the end of 2017. The reliability of the online panel we are using is getting better and better; therefore we have chosen to adopt online panels as a way to contact this hard-to-reach population."
Andrew Robertson agrees that future polls will adopt a multi-method approach.
"Calling cell phones is not the answer so yes, I see a move to online as well as landlines and maybe even some door-to-door sampling."
Both Robertson and Zhu feel criticism of the polls is largely unwarranted.
"I think unprofessional journalism is a bigger problem. Some media were reporting that National is making a comeback, whereas (apart from the one Colmar poll) National were remarkable steady in the polling. And it is often not made clear enough that the polls are taken at least a week earlier than when they are reported," said Zhu.
Robertson's view is that the polls provide a vital public service despite what some politicians think.
Former Prime Minister Jim Bolger once famously said "Bugger the pollsters" on the eve of the 1993 election and Winston Peters consistently rubbishes the established polls.
Robertson has some sympathy for Peters. "I think that 10 years ago he had a point, when the polls regularly underestimated NZ First support but voters have no other bellwether to measure politicians against – particularly when they say they are leading an electorate and it turns out they are not. There is no other way to get a view of what the public really think."
Full story: https/www.newsroom.co.nz/2017/09/25/49900/bugger-the-pollsters-not-this-time
| | |
| --- | --- |
| Posted on 2 October, 2017 at 7:20 | |
Should we trust the polls?
By Meriana Johnsen | September 22, 2017
The recent election upsets of Brexit and Trump have placed doubt over polling reliability. Whilst New Zealand has a good track record for accuracy, this campaign has seen huge discrepancies between polling results. The most striking was between the recent Colmar-Brunton poll which put Labour 4 per cent ahead of National whilst Reid-Research had National 10 per cent ahead.
To work out how the pollsters could produce such starkly different outcomes, we spoke to the polling companies about their methodologies and what factors would likely cause an election upset.
Is landline surveying to blame?
With the exception of Newshub-Reid research, all the polling companies use landline surveying. The common misconception is that landline surveying skews the results towards older voters. Polling companies have quotas they must fulfill for age, gender and region, based on the latest census data.
Reid Research managing director Ngaire Reid said that in the past the company has struggled to find a 25 – 30-year-old male from the West Coast. The hardest demographic to meet was under 35s.
"It's been very difficult to get young people, you just ring and ring and ring," she said.
Newshub now solely uses online polling to survey 18 – 24 year olds and most 25 – 35 year olds. It's all a matter of speed and responding to consumer research which says landline use is in decline, according to Dr Andrew Zhu, whose company conducts the internet polling for Newshub.
Landline polling has become hard to achieve as a third of New Zealanders no longer have a home phone. Dr Zhu said that online surveying wouldn't change the result "too much", but he would still be paying close attention on the 23rd of September to see if it was accurate.
Could a high youth voter put the polls out?
A high voter turnout in New Zealand makes the chance of a shock result unlikely. Both the U.S and the U.K have voter turnouts in the low 60s, whilst NZ's voter turnout remains strong at 76 per cent.
UMR mitigates for voter turnout by excluding voters who answer that they are uncertain whether they will vote, whilst Colmar-Brunton is confident that high voter turnout is enough to avoid this issue.
Colmar-Brunton chief executive Jason Shoebridge said the polls would likely be thrown if older voters stayed home rather than a high young voter turnout.
Oftentimes when two polls appear outside the margin of error it is a case of when the polls were conducted. The starkly different Green party projections in August were largely influenced by when Green's co-leader Metiria Turei resigned.
The Colmar-Brunton poll was conducted after her resignation which placed them on 4.3 per cent. Reid-Research placed them on 8%, their polling taking place just a day shy of the leadership fiasco.
Is a polling embargo necessary in New Zealand?
Many countries overseas have introduced bans on publishing polls prior to the election. A 2012 study by the University of Hong Kong found that 38 out of 83 countries surveyed had a blackout period for publishing pre-election opinion polls.
There have been unsuccessful attempts in NZ to do the same. Winston Peters introduced a bill to ban polling 28 days from the election in 1999. He believed that voters were simply voting for the party they thought would win or whoever was performing best.
UMR Executive Director Stephen Mills believes polls provide necessary information for voters to make strategic decisions.
"It is vital for MMP, voters need to know if their party will meet the five per cent threshold," he said.
Voters also make strategic decisions in their electorate if they think a party needs extra seats or if the seat is needed to form a coalition, as in the case of the Ohariu electorate.
Victoria University professor Jack Vowles agreed that polls provided critical information for voters to make their decision.
"A polling embargo would be a restriction on free speech. Polls provide voters with information that can help them make a choice – for example whether or not a party is likely to cross the threshold to gain seats therefore indicating the risk of wasting their vote," he said.
A polling embargo under MMP would also likely result in a rise of wasted votes. A 2015 Oxford study found the number of wasted votes increased in countries with highly fragmented party systems when pre-Election Day polls are restricted.
Full story: http://www.massey.ac.nz/~wwjourn/should-we-trust-the-polls/
| | |
| --- | --- |
| Posted on 2 October, 2017 at 7:15 | |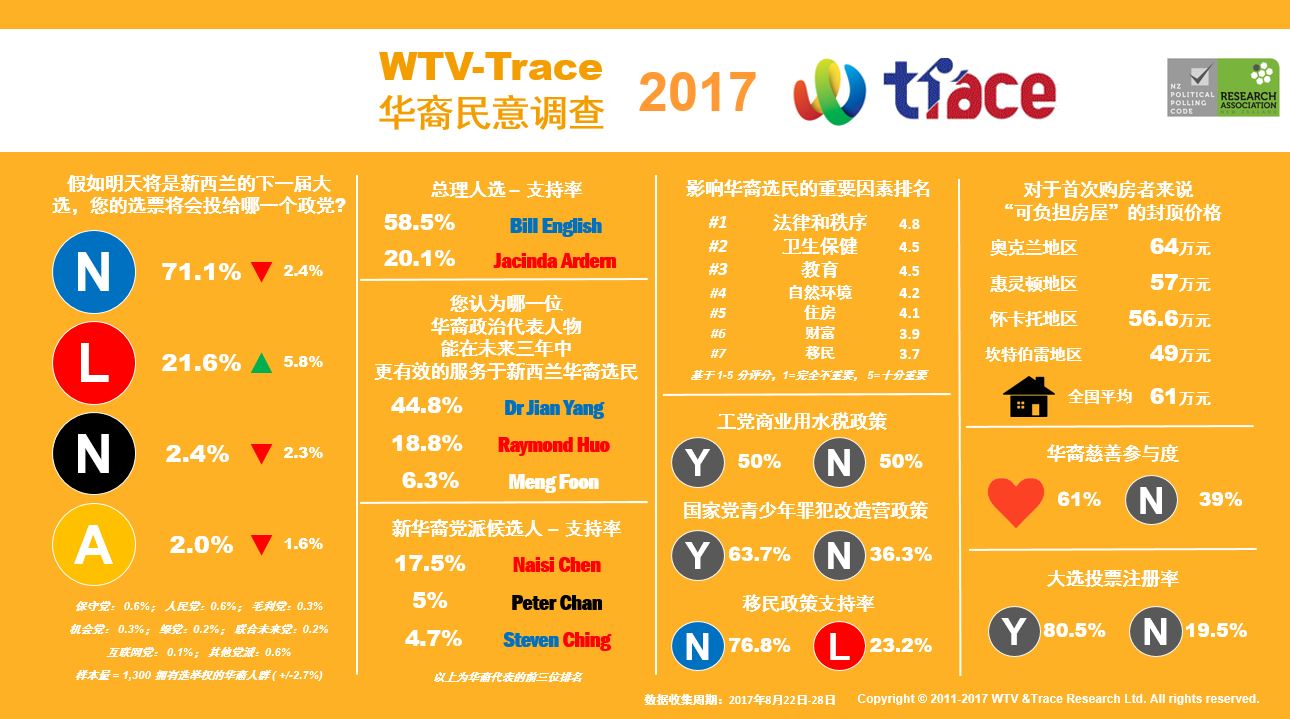 Poll: National will be back in Government if Chinese voters had their way
By: Lincoln Tan
Lincoln Tan is the New Zealand Herald's diversity, ethnic affairs and immigration senior reporter.
[email protected] @LincolnTanNZH
National would easily be able to govern alone without the need of any support parties if Chinese voters in New Zealand had their way, a new poll has found.
The WTV-Trace Research Chinese Poll found 71.1 per cent of ethnic Chinese will vote for National if the election was held tomorrow, a 2.4 percentage point drop from its previous poll.
This is at odds with some other mainstream polls which are putting Labour ahead of National.
Labour was up 5.8 to 21.6 per cent, while both NZ First and Act were down to 2.4 and 2.0 per cent respectively.
Full story: http://www.nzherald.co.nz/nz/news/article.cfm?c_id=1&objectid=11919332
| | |
| --- | --- |
| Posted on 6 September, 2017 at 0:00 | |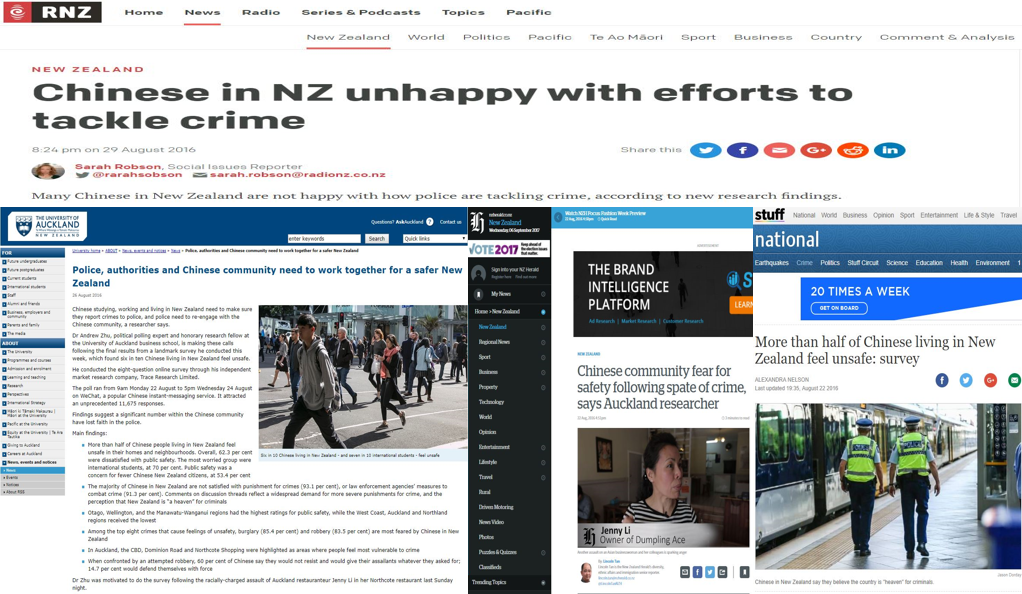 Image Source: Radio NZ,the University of Auckland, New Zealand Herald & Stuff, August 2016
Executive Summary
Objectives
Help Chinese perceptions be better understood by non-Chinese in New Zealand;
Provide statistical evidence to support the Chinese community's concerns about public safety in New Zealand;
Identify areas of concern and provide recommendations to relevant authorities;
Increase peace of mind within the Chinese community.
Methodology
Results are based on an online survey distributed to Chinese New Zealand residents through Wechat, a Chinese instant-messaging service. Wechat has a higher penetration rate than landlines among Chinese in New Zealand;
The poll was conducted from 22nd to 24th August, 2016 by Trace Research Ltd on a non-profit basis;
The survey is based on a very large sample with 11,675 valid responses (all respondents 18+ years old, 46% male and 54% female);
To ensure the representativeness of the results, demographic weightings have been applied to New Zealand citizens and permanent residents using the 2013 NZ Census statistics on Chinese population distribution. The margin of error is 1% at the 95% confidence level;
The sample consisted of 15.9% NZ citizens, 43.2% NZ permanent residents, 26.8% international students, 1.8% visitor Visa holders, 11.4 working Visa holders, and 0.9% other Visa holders;
All respondents are ethnic Chinese. Analysis of respondents' comments indicates a broad range of origins, including Chinese from mainland China, Hong Kong, Taiwan, Singapore, Malaysia as well as 2nd generation ethic Chinese in New Zealand.
Key Findings
62.3% of the Chinese in New Zealand express dissatisfaction with public safety. The group which feels most vulnerable is the international student segment (70%). However Chinese New Zealanders (New Zealand citizens) have relatively less concern (53.4%), as this group of Chinese have been in New Zealand long enough to be better integrated into society, understand local norms, and have sufficient knowledge about how to deal with contingences. It is important to note, this poll has measured feelings about safety, but not the actual safety in NZ;
93.1% of the Chinese in New Zealand are not satisfied with the punishment imposed for crimes. The least satisfied groups are NZ permanent resident segment (94.3%) and international students (93.6%), followed by working Visa holders (93.2%) and NZ citizens (90.4%). Content analysis of respondents' comments exhibit that Chinese demand severe punishments for crime, and 50% of comments made were expecting amendment to criminal law to reinforce punishment;
Though the overall national safety satisfaction among Chinese is not high, certain regions show better safety satisfaction ratings. Otago, Wellington, and Manawatu-Wanganui regions are better perceived by local Chinese in general and international students specifically. The least satisfied region is the West Coast, with the low rating (mean=3) largely driven by visitor Visa holders (1.9) and international students (2.3).
Among the top 8 crimes that caused respondents to feel unsafe, burglary (85.4%) and robbery (83.5%) cause the greatest concern to Chinese in New Zealand;
Within Auckland region, the CBD (especially along Queen Street) (70%) is the most worrisome area for Chinese. Among all respondents, Dominion Road (6%) and Northcote shopping centre (4%) are two specific locations Chinese mentioned safety concerns about;
When confronted by attempted robbery, 60% of Chinese said they would not resist and give criminals whatever they asked for, and only 14.7% claimed they would defend themselves with force. Visitor Visa holders show the highest level of resistance (16.4%) and non-cooperation (28.3%) among all groups. Notably, only 40% of this group had travel insurance;
Both immigration and police could develop solutions for this group of Chinese who are new to NZ and have limited knowledge about NZ;
Run a Safer Community is an initiative triggered by recent incidents involving Chinese international students. In the 21 weeks of since the campaign began, it has gained 25.7% awareness within the Chinese community in NZ;
Recommendations made by survey respondents showed five major themes: 1) suggestions on relevant Law/Legislation reform/ amendments; 2) suggestions for Police; 3) increased attention to Chinese Community by authorities; 4) formation of self-initiated civil organisations; and 5) Demonstrations.
Recommendations
For the Chinese community:
Survey results suggest that many Chinese have lost their faith in Police based on their past personal experience, and this led some respondents to not report a crime;
Recommendation: Convince the Chinese Community to report a crime more fully. Positive interaction can help rebuild trust in the Police. Furthermore, if there is more evidence of reported crime, the Police can allocate resources more effectively;
Check the link for how to report a crime:  www.police.govt.nz/contact-us/how-report-crime
 For Police:
Why have some Chinese have lost their faith in Police? According to comments made in the survey, those who reported the crime in the past (e.g. Burglary) had never heard back from Police, and some are not happy with response time, etc;
Consider re-engaging with the Chinese community. Explain to the community how the Police work, and work to set appropriate expectations from all parties.
For Legislators:
94% PRs and 90% citizens are not satisfied with punishment for crimes. 50% of negative comments were related to legislation. Parliament needs to engage more fully with their Chinese constituents, and to better understand and respond to their concerns.
Special thanks go to the following organisations and individuals for their encouragements and supports in this opinion poll
11,675 Chinese respondents who expressed their view
Lincoln Tan - New Zealand Herald
Nicola Shepheard – The University of Auckland
Nicola Bremner – TVNZ
Phil O'Sullivan - TVNZ
Alexandra Nelson – Stuff Fairfax Media
Chen Liu – Stuff Fairfax Media
Sarah Robson – Radio NZ National
John Campbell – Radio NZ National
Michael Allan – Newstalk ZB
Mike Hosking– Newstalk ZB
Christina Campbell – Newstalk ZB
Bryan Chen – WTV
www.scoop.co.nz
www.livenews.co.nz
Volunteers (Research Professionals)
Sindy Xian – Qualitative Analysis
Jerry Chen – Data Coding
Shirley Du – Translation
Media Release 
www.nzherald.co.nz/nz/news/article.cfm?c_id=1&objectid=11698917
www.stuff.co.nz/national/crime/83433024/More-than-half-of-Chinese-living-in-New-Zealand-feel-unsafe-survey
www.tvnz.co.nz/one-news/new-zealand/chinese-dont-feel-safe-video-fight-outside-auckland-restaurant-illustrates-their-fears
www.radionz.co.nz/news/national/312053/chinese-in-nz-unhappy-with-efforts-to-tackle-crime
news.xinhuanet.com/english/2016-08/26/c_135635748.htm
www.china.org.cn/world/Off_the_Wire/2016-08/26/content_39172101.htm
community.scoop.co.nz/2016/08/authorities-and-chinese-community-need-to-work-together/
news.163.com/16/0825/10/BVAEEL1U00014JB6.html
news.sohu.com/20160823/n465441628.shtml
news.ifeng.com/a/20160825/49837246_0.shtml

www.auckland.ac.nz/en/about/news-events-and-notices/news/news-2016/08/Chinese-feel-unsafe-in-NZ-survey.html
Dr Andrew Zhu
| | |
| --- | --- |
| Posted on 21 August, 2017 at 7:45 | |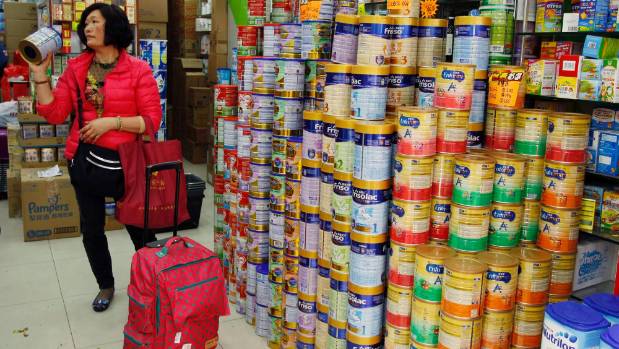 Source: /www.stuff.co.nz/manawatu-standard/business/95396723/Fonterra-partner-Beingmate-plans-to-sell-off-dairy-farms-as-it-forecasts-big-loss
Fonterra partner Beingmate plans to sell off dairy farms as it forecasts big loss
GERARD HUTCHING
Fonterra's Chinese investment partner Beingmate has forecast a hefty loss of $70 million for the first six months of the year and announced a sell-off of dairy farm assets.
The company had earlier forecast a profit. Its shares have fallen 10 per cent and been indefinitely suspended from trading, and charges have been made the company has been involved in insider trading.
In 2015 Fonterra invested $700 million for an 18.8 per cent stake in Beingmate, which it said would give access to the lucrative Chinese market for its infant formula and other products.
Dr Andrew Zhu of Trace, a consumer research company based in Auckland, said he believed the investment was questionable.
"There's a big mismatch between Fonterra and Beingmate. The key thing is the Chinese consumer doesn't have confidence in this brand."
"In May I went to China to do a study on infant formula and no-one mentioned it. For people in the first and second tier cities, it's not a brand they consider. It's aimed at the lower end of the market," Zhu said.
Fonterra acknowledged the difficulties of the Chinese infant formula market. A spokesman said the infant formula industry continued to operate "under challenging conditions" during the transition to infant formula registration, which had taken longer than indicated at first.
Beingmate was operating in a highly fragmented and uncertain infant formula market. Registrations for its five factories were "all on track".
"Our investment in Beingmate is part of a long-term, strategic plan to grow in the China infant formula market. We remain committed to the integrated China strategy and will continue to build on the success of our business in China," the spokesman said.
He said the partnership had created a direct line from Fonterra into the China infant formula market and given it access to an "extensive distribution and sales network".
"As a result our Anmum range is now in more than 170 cities in China, compared to around 60 in 2015."
Zhu said that just because the product was available in a greater range of cities, it was not necessarily value added.
Labour primary industries spokesman Damien O'Connor said senior Fonterra executive should be held responsible.
"The board approved a wasted investment of $700m of New Zealand farmer money. There's no excuse for not doing due diligence," he said.
Beingmate is not alone in experiencing difficulties in China. Last month Chinese authorities suspended the export licence of Australian dairy company Bellamys.
Fonterra manufactures Bellamy's organic baby powder range at its Darnum, Victoria plant under a five-year, multi-million deal, but the suspension does not impact the sale of these products.
Fonterra Australia also uses the Darnum plant to manufacture nutritional base powders for Beingmate, which are now being shipped to China.
Last week Beingmate told the Shenzhen Stock Exchange it would spin off a subsidiary that runs dairy farms in China's Heilongjiang province to improve earnings.
The subsidiary - Beingmate Anda Dairy Company - has lost money in the last year as global raw milk prices remained low, although they have since picked up.
The Caixin news website said Beingmate chairman Wang Zhentai had denied the claims of insider trading, but the Shenzhen Stock Exchange had ordered the company to disclose any stock transactions made by executives over the past three months.
In the last year the vice-chairman, chief financial officer and deputy general manager have resigned from Beingmate.
/